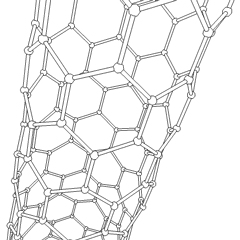 Carbon-based nano-materials are on track to becoming a foundation for economic growth for the 21st century.  And the United States could be in the driver's seat of this age of Carbon Capitalism and rethinking of carbon-based Industrialism!
Manufacturing Eras: Silicon to Carbon
If the 20th century economic revolution of computer-based information technologies was shaped by humankind's ability to manipulate silicon-based materials, the next fifty years of wealth creation and productivity gains will almost certainly be built upon the material foundation of carbon-carbon bonds.
Carbon nanotubes are long chains of carbon-carbon bonds that were discovered and synthesized in the early 1990s.  Their performance properties equate to a 'holy grail' of sorts for materials scientists and engineers.  Single-walled carbon nanotubes (SWNTs) are more than 100 times stronger than steel and more flexible.  Mixing carbon nanotubes with plastics could lead to a manufacturing era of strong cheap materials to replace steel and aluminum used in aerospace – automotive industries and building construction.  Designing and building vehicles made of carbon nanotube (CNT) composite plastics would require less energy during manufacturing, improve vehicle fuel efficiencies through a much lighter chassis, and improve safety by reducing the crushing weight in a collision without sacrificing strength and protection.
Beyond tensile strength, carbon nanotube-plastic composite materials promise an era of plastic materials with electrochemical properties.  Depending on how the carbon bonds are aligned (e.g. chirality) they can behave like a conductive metal, or (if the bonds are turned in the opposite direction) nanotubes repel electrons.  Combine the two and you have a semiconductor that surpasses the performance of silicon and other precious metals.
Carbon nanotube plastic composites that conduct electricity would create tremendous value for manufacturers of airplanes, consumer electronics (e.g. thin flexible display screens) and the energy industry (e.g. plastic solar cells, batteries, fuel cells).
So what's the problem?
Until now, scientists have had trouble mixing carbon nanotubes into liquids that are the foundation of industrial scale plastic manufacturing based on fluid techniques.  Carbon nanotubes are 'sticky' and tend to clump up when dissolved into liquids that are used in making plastic products.
Now, Houston-based researchers at Rice University have advanced a method for dissolving large amounts of single-walled carbon nanotubes (SWNTs) into a chlorosulfonic acid-based  solvent that is 'compatible with high throughput manufacturing techniques.' If we can continue to evolve methods for liquid-based manufacturing techniques that use the power of carbon nanotubes, the world could fundamentally re-write the 21st century Industrial Age.
Plastics and nanotubes derived from natural gas (or other carbon rich biomass) might someday compete with steel as the foundation for industrial materials manufacturing.   Large steel and aluminum plants could be replaced with smaller, less capital and energy intensive polymer-composite plants.   Emerging economies could set up advanced material manufacturing operations based on more cost effective hydrocarbons rather than iron ore and precious metals.
The economic and environmental benefits are enormous – and the potential revival of US composite manufacturing could help to reverse years of decline in traditional iron ore based US Industrial Belt economies that have been unable to compete against China.   These regions might find a new value proposition in the global economy by focusing on a era of manufacturing based on CNT-plastics.
YouTube: Carbon Nanotube fibre dissolving in chlorosulfonic acid
Matteo Pasquali's group at Rice University
Image credit: Wikimedia (Carbon Nanotube) CC License
Links to story on Nanowerk