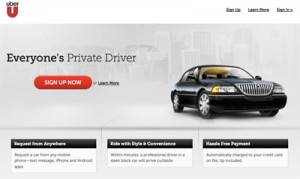 Forecast & Outlook: Industry pundits might soon recognize the most innovative transportation startup in the land as San Francisco-based Uber: a compay that connects fleet drivers to users via an on-demand, mobility-as-service business model.
This high-tech, high-touch, point-to-point service empowers fleet owners/drivers and has the potential to provide users with a more compelling access solution to Zipcar's car ownership alternative. Considering real world mobility demands, I find Uber's focus on a fleet-leveraged 'per mile' to be more compelling than Zipcar's 'per hour'.
The Future of Fleets: 2010-2020
Uber's position as a disruptor is based on its focus of empowering fleets and setting new expectations for personalized on-demand service. And its focus on service innovation might appeal to a wide range of stakeholders: cities/suburbs seeking to new mobility solutions, transit companies seeking to expand their reach and revenues from premium services, automakers seeking blue ocean markets of new smaller footprint EV fleets, and entrepreneurs seeking to enter this new tech-infused transportation landscape.
Forget about bold predictions - let's just have fun with a few plausible events by 2020 that could shift our attention to the potential low-cost, high margin future of fleets they might include:
2012 – the incumbent fleet legal battles begin as taxi and transit unions fight on-demand business models; Meanwhile, GM Onstar and Ford Sync battle for the brand value in a crowded smart app landscape
2014 – fleet union leaders wake up and realize that on-demand markets will only increase their service opportunities
2015 – major auto insurance agencies release first line of products for on-demand services
2016 – a sprawling metro (say Houston) creates legal framework for on-demand fleets to reach suburban markets (e.g. after-school programs for kids, commuting parents, aging populations)
2017 - GM buys Segway (causing Ford to buy ZipCar) as both announce roadmaps for 'last mile'mobility-as-service partnerships that begins with commuters to transit hubs
2017 – Tokyo Metro announces plans to test pilot remote controlled mini-van system
2018 – Brooklyn and Queens-based 'Dollar Vans' sign revenue sharing agreement with MTA to service non-peak hours and expanded transit's reach and service footprint
2019 - Hertz Connect leads the way as rental companies scramble for partnerships as they (finally) move beyond airports to servicing resident communities.
2020 – Toyota buys Local Motors and introduces open source hardware platform for 'Chariot' form factor urban vehicles; The industry's value chain shifts from selling new hardware to a 'product plus service' revenues
2022 – Majority of EVs (based on fuel cells+batteries) are manufactured for fleets not direct-to-consumer
2025 - Auto safety giant Takata* releases semi-autonomous fleet solutions based on externally mounted pedestrian safety systems for first wave of 'chariot' pods to be unleashed in Germany and Japan
One Certainty – Service Innovation is Coming
Beyond these provocative events, there is one certainty for the future of transportation.  Service innovation based on technology is coming!  And I give the biggest upside to fleets!
Who might be the early adopters?  Fatigued commuters? Boomers living in downtown condos? Millennials? Spectators heading to sporting events? Tourists?  Or might companies lead the way (e.g. Home Depot control fleets of pick up trucks)?
It's just a guessing game on who will jump first or lead?  But we can be confident in the direction of service innovation and likely rise in access-model revenues as the decades old ownership model of the auto industry fails to break out of its capacity utilization challenges.
By 2020, I would expect that the idea (not the market adoption) of 'mobility-as-service' to become mainstream. Setting the stage for a massive retooling and build-out of mobility systems beyond 2020.
Read more:
The Spectrum of Visions: Anti-Car; Social Mobility and Autonomous Era
& What if ZipCar is the Friendster vs Uber as Facebook in the Mobility 2.0 Industry?
The Spectrum of Visions: Anti-Car; Social Mobility and Autonomous Era
The  seeds for the future of transportation have been planted and visionaries are now once again free to envision more radical futures. What most people agree on is that the future will include more choice of multi-modal transportation and that the true cost of vehicle ownership could be revealed as subsidized systems (e.g. free parking; peak/base commuting) are brought into the marketplace of 'pay as you use' fees.
The visions come from a wide spectrum:
The 'anti' car' communities who wish to kill the car and focus on more structural design remedies of suburban-urban systems
The 'go social' entrepreneurs who see the leverage of collaborative consumption via feel good concepts like car-sharing, taxi cab sharing, and crowd-sourced real-time networks (e.g. Roadify).
The 'grow with flow' crowd of techno-optimists which put all their chips on more transformative solutions like autonomous vehicles and smart infrastructure to get more capacity out of existing systems
The secret to good foresight is being able identify and understand all three mindsets – and communicate the incremental and transformative changes to industry leaders!
Talking with my transportation industry clients I recommend leveraging structural investments around multi-modal transportation solutions and the upside of 'social geoweb'.  These drivers of change are coming!
And with these same clients, I plant a seed of a more disruptive image based on a future beyond 2020 where situational awareness technologies have transformed the role of the human from driver to captain.
While the end game might indeed be fully autonomous vehicles that allow us to 'grow with flow', the transition begins with semi-autonomous systems that empower the human.   These driver-oriented systems represent the near-term opportunity for service and safety system design.
What if ZipCar is the Friendster vs Uber as Facebook in the Mobility 2.0 Industry?
I should begin by stating that I am a huge fan of Zipcar and its brilliant and eloquent Founder Robin Chase. And I believe ZipCar will continue to be a disruptive force in transportation.
My blog post title is really more to provoke and get pageviews than to throw Zipcar's future under the bus!
I only question the long term viability of their current business model which is a car ownership alternative.
The purpose of this post is to explore service innovations that transform existing fleets around point-to-point business models rather than 'per-hour' based revenues.  I believe there is an incumbent base of fleet operators waiting to transform their commercial and residential services.
In its current form, I find Uber more disruptive in leveraging the operational side of fleets and transforming how consumers view mobility as a service (not simply car ownership as a service!)
Uber also has the right people on the bus looking at its Leadership (including Stumble Upon Founder; see Crunchbase Profile] and Bay area home base.  Never underestimate the power of media attention.   I wish them success in 2011-12 and hope that we start to explore the future of fleets as a source of transformative change!
*Disclosure: Recent Client